Crawl Space Encapsulation in Saint Albans, WV, KY, OH & Nearby Areas
Protect your crawl space against moisture, mold, and pest issues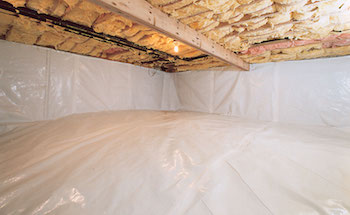 Sealing the crawl space off from outside air prevents moisture and air quality issues
Since as much as half of the air in your home comes up from your crawl space, it's important to keep this space underneath your home as dry and clean as possible. Adding a vapor barrier and dehumidifier in your crawl space is the best way to protect your home from health, comfort, and safety problems caused by crawl space moisture.
Alford Foundation and Crawl Space Repair can solve your crawl space problems with the CleanSpace® crawl space encapsulation system. Schedule your on-site evaluation and free cost estimate today!
Benefits of Crawl Space Encapsulation:
More comfortable living conditions - Your home won't feel damp in the summer and floors won't be cold in the winter.
Improved air quality - Vented crawl spaces negatively affect the air inside your crawl space and upstairs.
Greater energy efficiency - Homes with a sealed crawl space use an average of 20% less energy (according to Advanced Energy's study)
Usable storage space - A crawl space sealed with CleanSpace provides a clean, bright storage area with no worry of belongings being ruined by moisture, mold, termites, or pests.
Fewer pest problems - Crawl space encapsulation helps keep out pests and wood-destroying insects.
Our 4-Step Crawl Space Encapsulation System
The CleanSpace® Crawl Space Encapsulation System addresses each of the main threats to your crawl space: outside air, excess moisture, water, mold, and pests. A dry, clean crawl space means a healthier, more comfortable home overall.
Stop Water Intrusion:

Before encapsulating your crawl space, it's important to take care of any water intrusion issues, including plumbing leaks, foundation leaks, and drainage problems to prevent water damage and keep your crawl space dry. Alford Foundation and Crawl Space Repair can help stop water from coming into your crawl space by installing a perimeter drainage system and sump pump designed specifically for the crawl space.

Prevent Moisture Seepage:

Moisture enters your crawl space through the ground and foundation walls. Adding a vapor barrier in your crawl space helps prevent mold growth, wood rot, and pest infestations.

We cover the crawl space floor and walls with the heavy-duty CleanSpace® vapor barrier. CleanSpace is a 20-mil reinforced polymer liner that's offered with a 25-year warranty against rips and tears. When installed as part of a complete crawl space encapsulation system, CleanSpace provides a dry, healthy crawl space that can be safely used for storage.

Seal Air Leaks:

Research shows that crawl space vents let in humid outside air that raises the relative humidity in the crawl space. A damp crawl space is the ideal environment for mold and pests. Adding crawl space vent covers will help keep your crawl space dry and pest-free. CleanSpace® vent covers are insulated, will never rot or need paint, and provide an airtight seal against unconditioned outside air.

During your crawl space encapsulation project, we will also seal the rim joist and all penetrations to the outside, such as around pipes and electrical wires.

Condition the Air:

We offer two options for dealing with the air in your crawl space: a dehumidifier and a crawl space ventilation fan. Installing a crawl space dehumidifier is the best way to control the humidity level in your crawl space. The SaniDry Sedona dehumidifier is designed specifically for basements and crawl spaces. The Crawl-O-Sphere fan adds air from the central air conditioning system to help dry out the crawl space air.

Your crawl space specialist can recommend the best method for your situation.
Get a free crawl space encapsulation cost estimate
Are you ready to get started on your crawl space encapsulation project? As a professional crawl space repair contractor in the Tri-State Area, Alford Foundation and Crawl Space Repair offers all the solutions you need for a clean, dry crawl space. If you're in Saint Albans, Charleston, Huntington or the surrounding area, contact us today to schedule your on-site consultation and no-obligation cost estimate.
Looking for a price? Get a no cost, no obligation free estimate.