Sunroom Addition Installation in the Tri-State Area
Design & build a sunroom for added space, beauty & value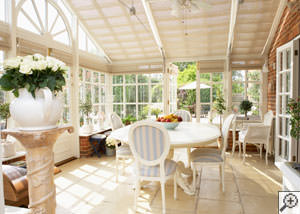 Upgrade your living space. Sunrooms add a bright, comfortable living space that lets you enjoy the outdoors more.
If you're looking to design a beautiful new space for your home, there's nothing quite like the experience of a sunroom addition. Unlike building an addition onto your home, sunroom installation quickly provides a cost-effective extra space in your home that can be enjoyed year round.
Alford Foundation and Crawl Space Repair provides high-quality sunroom design and installation in the Tri-State Area, and we can help you add the perfect living space to your home. We install a variety of styles of sunrooms, and we will work with you to find the perfect custom design for your home.
We offer free quotes on all our sunroom installations in Saint Albans, Huntington, Charleston, and the surrounding areas, so call us today at 1-844-675-6343 or click below to get started!
Find the right type of sunroom for your home

Cathedral sunrooms feature sloped, glass-paned roofs and are commonly installed as four-season sunrooms. These rooms are highly energy efficient and are a very popular addition that boosts curb appeal and property value.

Straight or curved eave sunrooms are modern, energy efficient rooms that fit seamlessly with the existing house. These are easily used as year-round living spaces as well. If you choose an opaque roof for this design, be sure to include several skylights.
TEMO Sunrooms by Alford Home Solutions
Once built, your sunroom offers an outdoor oasis, no matter the season or the weather!
Our beautiful TEMO sunrooms allow you to enjoy your outdoor space without having to worry about pests, insects, UV rays, lousy weather, and more.
Our sunrooms also extend your home's living space and boost its overall value. But, best of all, they can be adapted to suit your home's unique style, geography, climate, and more.
So, whether you need a studio, cathedral, or conservatory sunroom, we offer these styles and much more!
Benefits of TEMO sunrooms::
Resists peeling, cracking, rust, & rot
Built by certified installers
Quick installation
Quality materials
Maintenance-free
Offers thermal protection
Comes with a lifetime warranty
How to design the perfect sunroom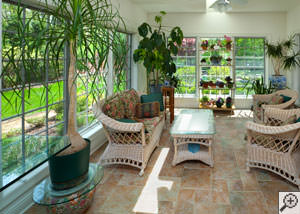 Customize your new space. We will help you design and install the perfect sunroom for your home, no matter what use you have in mind for it.
Before you design your sunroom, it's a good idea to decide what you'll be using your sunroom for, and what will be the best value for your investment. When adding on to your home, consider these options:
Seasonal use: Sunrooms can be open, three season, or four season. Three-season sunrooms include insulated glass but lack a heating or cooling system, meaning extreme temperatures will make the area uncomfortable. Finally, four-season sunrooms are insulated and include their own heating and cooling systems, making them part of the house.
Sunroom lighting: If you want to use your sunroom in the evening, strategically placed accent lighting and track lighting will make the room more enjoyable. Skylights are also an essential addition if you choose an opaque ceiling.
Heating & cooling options: Four-season sunrooms naturally require heating and cooling options for the space. Electric floor heating can be a fantastic way to keep your floors comfortable, while fireplaces are also very popular in sunrooms. Ceiling fans and windows can be sufficient for cooling, though air conditioning can be added to keep your sunroom cool and relaxing.
Finishing touches: Complete your sunroom design by bringing in wicker furniture, sweet-smelling flowering plants, and by using acrylic fabrics that resist fading in the sun. For fancier finishing touches, you may want to consider customizing your sunroom further with a fountain, a hot tub, or even a spa enclosure. Whether you're creating a home office, a playroom for your children or you just want a place to read and relax, don't forgo the little details that make the space your own.
Sunroom Energy Efficiency
At Alford Foundation and Crawl Space Repair, we recommend that you install double-paned (also called double-glazed) windows for your sunroom. Double-glazed, insulated sunroom windows will have twice the insular R-value (R-4), saving energy in your home.
Thermal breaks and insulation should also be integrated into your frame, and all glass should be Low-E coated to protect it from UV rays in the summer while also adding insulation value in the winter. To conserve energy in your home, you may also want to consider isolating your sunroom from the rest of the housing envelope. Having a sealed door into the sunroom as opposed to an open entry will help conserve energy and is essential in three-season sunrooms.
Build your new beautiful sunroom today
If you want to upgrade your home with a custom sunroom installation, Alford Foundation and Crawl Space Repair are the local contractors you need! We design and install all types of custom sunrooms, and we will work with you to ensure that you get the perfect space for your needs.
Call us today at 1-844-675-6343 or contact us online to get a free estimate on a sunroom installation for your home. We proudly serve in Huntington, Charleston, Saint Albans, Beckley, Athens, Portsmouth, Marietta, Ashland, Pikeville, Ironton and throughout the surrounding areas.
Looking for a price? Get a no cost, no obligation free estimate.